SFDC Winter 16 Updates
SFDC Next release Winter 16 is coming soon. Salesforce has published important dates about winter 16 release.  And also preview instructions available.
Below are the few important dates about SFDC winter 16 release notes.
– August 20th — Pre-release will be available.
– Week of August 24th — Your ideas "Coming in Winter '16" on the Idea Exchange.
– August 27th — Release Notes available and the Release Site will be updated.
– September 3rd — Join us as we discuss how to best manage new releases.
– September 4th — Sandbox Cut Off.
– September 11 — Sandboxes upgraded.
– September 25th — Our fist release weekend.
– October 9th — The second release weekend.
– October 16th and 17th — The final release weekend.
– Later in October — Release training available.
To know more about These dates see Salesforce reference .
Preview instruction also available. If you want to have winter 16 preview sandbox take action before September 4th, 2015. See the below preview & non preview instances. See Salesforce preview instructions here.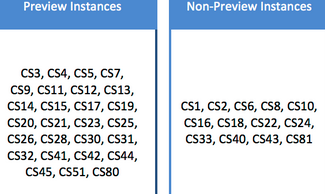 Below are the few new features in Winter 16 release:
Update records owned by inactive users
Lightning Experience – Reports & dashboard features
Running specified test classes with Changeset deployment