Cloud Computing
Cloud Computing : In this salesforce Tutorial we are going to learn about What is cloud computing, Definition for cloud computing, Cloud Computing advantages, cloud computing disadvantages.
Cloud Computing Definition.
"Cloud Computing is a new trend in IT development, deployment, Delivery module of business Products, Services that are provided over the internet that are been used by the real time User".
or
"Cloud Computing definition given by NIST (US National Institute of Standards and Technology) : Cloud Computing is a model for enabling ubiquitous, convenient, on-demand network access to a shared pool of configurable computing resources that can be rapidly provisioned and released with minimal management effort or service provider interaction".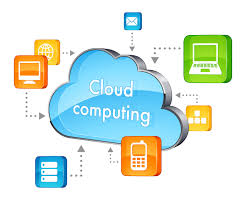 Cloud Computing is a Buzz word today and a hot topic in publications, Enterprises and also in Public. So what is Cloud Computing ? Here Cloud computing is an module which enables consumers to higher computing resources from a providers as per their requirements.
Through Computing we can use resources over the internet from any where in the globe with out managing resources like Applications, Data Base, Operating System,Network etc. In general to use any resources like Ms Office we have to install that software in our devices to use. If we want to use that Ms Office service in other device we have to install that software again.
Here we are able to use that service in which the software was installed.
We don't require any software , Servers, Operating System, Storage.
Simply we need to have a minimal configuration system with internet and a Browser.
The need for Cloud Computing
Most organizations spend several million dollars each year on procuring the right hardware and software for their employees. These purchases include not just the computers and laptops, but also software and software licenses. For every additional employee a new software license has to be bought. This is financially draining for any organization, big or small.
Cloud computing to the rescue!
There are several companies that provide software services that an organization needs for its business processes. By plugging into these companies through the internet, and accessing their services by loading just a single application from them an organization can access all the software that it needs for conducting its business. This Web-based service is called cloud computing which allows a remote machine owned by a company providing the cloud based services to run several business processes of a client's business, whether it is a simple word processing or more complex customer relationship management or CRM software.
Cloud computing is one of the greatest developments in technology over the past decade, and allows online file access across several applications spread over a vast geographical area. Cloud computing creates virtual space or a cloud of files and applications that may be used and shared by all members of an organization, no matter where they are. To access cloud computing services an organization must pay a subscription amount to the cloud computing service provider, as well as pay for the installation of the service and customization. Once the software application of the cloud computing service provider is installed, getting work started is as simple as plug and play, as it's only a matter of logging on to the internet.
Advantages of Cloud Computing
What has made cloud computing work is the tremendous growth in processing power, reliability of the Internet and the great increase in broadband speeds.
It makes tremendous sense to make use of the centralized server of the provider of cloud computing services as not only does it reduce the costs by a great extent by making redundant the need to buy several software licenses, it also eliminates the huge costs required by an organization to maintain and upgrade existing software.
The other advantages of cloud computing are
It drastically reduces the cost of hiring software engineers and other specialized workers for IT support, as the streamlined software available on the cloud eliminates the need for a lot of heterogeneous hardware and software.
Also, an organization that avails of cloud computing can use the processing power of the entire network or cloud that it is a part of. So it never falls short on processing power.
Another huge advantage is that since cloud computing eliminates the need for an organization to buy hardware, a plenty of physical space is saved. There is no need to reserve space on the company premises for giant servers, for instance.
Based on their working, cloud computing services can be classified into:
Software as a service (SaaS): Here, the software applications are managed by the provider of the cloud services and can be accessed by organizations through a simple browser, which loads all the applications of the service provider. The client businesses do not have to worry about licensing or server costs.
Platform as a service (PaaS): Here, dedicated software platforms are built and managed by the cloud computing service provider to run and develop business applications. These platforms support every stage of creating a web application online, no additional software is required whatsoever in the local computer.
Infrastructure as a service (IaaS): This is the most advanced form of cloud computing as here the virtual servers are purchased by businesses along with software and hardware from the cloud computing service provider on a per-use basis.
The Disadvantages of Cloud Computing
While cloud computing removes the need to hire more software engineers or to buy several new software licensed, and eliminates the cost of software upgrades and maintenance, it does have a few drawbacks.
One, it may not always be easy to fit in a company's requirements with what it provided by the cloud computing service provider.
Two, some of the company data may to too confidential to be released on the cloud, or may get blocked by a local firewall. Some companies may find the cost-per-use model of subscription tough to handle.