What is Salesforce – All about Salesforce CRM?
The following articles guides you everything about Salesforce CRM. The first question which arises in our mind is "What is Salesforce", "What is Salesforce CRM", "What is Salesforce technology" and what are the key concepts in Salesforce.com Certification.
What is Salesforce Technology?
Salesforce Technologies is one of the leading and very hot Technology in IT industry. Through Salesforce.com Technology thousands of Job opportunity are created for Salesforce developers and Salesforce Administration Job Seekers. As per Forbes magazine, nearly 55% of enterprises predict cloud computing will enable new business model in three years. So Salesforce is one of the Cloud Computing Technology which have bright future in the upcoming years. Salesforce provides different enterprise cloud computing applications to all size industries and businesses.
Salesforce applications are provided on subscription basis primarily through direct sales effort and indirectly through partners.
About Salesforce.com – Founder and Salesforce Stock.
Salesforce.com was founded by Marc Benioff and Parker Harris in 1999. Sales force is an American Based Cloud Computing Company which provides software as a service (SaaS) product solutions to customers. Salesforce is not a software, it provides complete cloud based CRM applications through Internet and a Browser.
In June 2004 Salesforce.com company was first lsites in Initial Public Offering. In the beginning the number of investors are very few in number because at that time so many people were unaware of cloud computing some of the investor in beginning who show interest in Salesforce were
Larry Ellison
Halsey Minor
Stewart Henderson
Mark Iscaro
Igor Sill
Nancy Pelosi
But after 5 years the company was out for public after they raised US$110 million in the New York Stock Exchange. As the time passes the number of investor's roses and then a time came when the investor's wants to invest but there were few rooms available at Salesforce.
For the trademark "Social Enterprise" Salesforce applied in 2012 in United States, Europe and West indies but in the same year they were force not the use the trademark in their future services by Social Enterprises UK.
Salesforce was added to the New York stock exchange after the federal takeover of Freddie Mac and Fannie Mae Inc. in the year 2008.
Operations
Salesforce Headquarter is in San Francisco USA having regional headquarters in Morges, Switzerland, India and Tokyo. Major offices are in New York, London, Sydney, Dublin, Hyderabad, San Mateo and California.
What is Salesforce Infrastructure?
Salesforce with the help of AMD Processor migrated to Dell on Linux from Sun Fire E25k in 2008. Later in the year 2012 Salesforce announces to build a datacenter in United Kingdom for Europeans customer's data.
Later in the next year 2013 Salesforce signed a 9 year agreement with Oracle CEO in which Salesforce will use Oracle Linux, Oracle Exadata, Oracle Database and the Java platform in their future services.
Sa
What is Salesforce?
Salesforce.com is "software as a service (SaaS)", which means that the user need not to simply install Softwares or servers to maintain. Salesforce.com user must sign up for an account and instantly user can use the software to run their business. Salesforce.com offers a 30 trial and since there is no contract, you can cancel at any time and walk away if it's not a fit for your business. Salesforce.com is accessed from Internet Browser. At First Salesforce.com started as a Customer Relationship Management(CRM) product but over the years has evolved into much, much more. Salesforce is among one of the best web based flexible and powerful database provider available in the market. More than 170,000 companies have discovered the result of Salesforce online database providers. Now a days everything is online, so it is difficult for companies to spend millions on storage problems so they simply bought a huge space for them on the cloud storage provided by Salesforce. Salesforce is known best for its CRM. Salesforce is a global cloud computing company situated in United States of America.
Salesforce.com was Founded in 1999 by Marc Benioff (Oracle), Parker Harris (Left Coast Software), Dave Moellenhoff, and Frank Dominguez (both from Clarify), salesforce.com started out as a Customer Relationship Management (CRM) product but over the years has evolved into much, much more. From a high level, salesforce.com consists of several products: Sales, Service & Support, Partner Relationship Management, Marketing, Content, Ideas, Analytics, and Chatter. Developers can extend the system by writing applications on the Force.com platform using salesforce.com's proprietary languages Apex and Visualforce.
Salesforce Products list.
| | | |
| --- | --- | --- |
| Sales Cloud | SalesforceIQ | Data.com |
| Service Cloud | Desk.com | Marketing Cloud |
| Pardot | Community Cloud | Chatter |
| Wave Analytics | Sales Wave Analytics | Service Wave Analytics(Pilot) |
| App Cloud | Force.com | Heroku Enterprise |
| IoT Cloud | Thunder | |
Why Salesforce.com is on Fortune 500 List.
Salesforce.com is Cloud Computing.
It has pre built application
It Save Money and Time.
Salesforce.com provides reports and Dashboards which helps user's to run their own reports and dashboards.
We can analyse Trends.
We can forecast opportunities.
It has Outlook Integration, Email Templates, Built in record search and can create new leads, accounts, contacts and opportunities.
Salesforce is currently ranked amongst 100 best companies of the world.It is listed on the New York Stock Exchange and is a constituent of the S&P 500 index.
What is Salesforce CRM?
What is Salesforce CRM? Salesforce CRM is a set of business processes and integrated applications that help companies manage customer information, activities, and conversations in one centralized location. It is one of the best customer relationship management (CRM) tool, it provided services to company and keep their clients satisfied with the particular company. Salesforce help other companies to keep their sales and client information up to date, start campaign for different companies and deal with their customers, sales and business deals. By combining business processes, people, and technology, companies can drive sales and keep customers satisfied after the sale. Salesforce connect clients to different companies that's why so many companies has shown their trust on Salesforce in a very good way and given it a five star rating among other CRM providers.
Salesforce.com provides four Cloud Services they are
Collaboration Cloud.
Force.com Custom Cloud.
Sales Cloud : Sales force automation is the most popular of the sales tools, allowing companies to speed up the sales process and streamline lead to cash. According to salesforce.com, more than 82,400 customers running more than 135,000 applications empowers over 2 million subscribers worldwide to manage resources and processes more effectively, pursue more business in less time, collaborate more closely and close more deals using SFA. The Sales Cloud consists of the following features.
Opportunities and Quotes.
Email and Productivity.
Content library.
Analytics and Forecasting.
Partners.
Mobile.
Jigsaw Data Services.
Service Cloud : Service Cloud, is the premium customer service platform for providing faster and personalised service delivered through phone, email, instant messaging, Twitter, Facebook or other social platforms. The Service Cloud consists of the following features.
Call Center.
Contracts and Entitlements.
SalesforceAnalytics.
Email.
Community.
Partners.
Approval and Workflow.
AppExchange.
What is Salesforce App Exchange.
What is Salesforce AppExchange? Salesforce also offer App Exchange which provide a platform for custom application building and sharing and Salesforce also conduct consulting, deployment and training session throughout the year. In Salesforce we can build nearly 1000 applications on the Force.com platform and nearly 300 services are offered in AppExchange. We can differentiate and group developed application in AppExchange by the following categories. When it comes to a place where you can get apps especially those that will enable your employees to be more productive in an otherwise highly technology wise environment, it can be a mayhem. The best chance that you may have had over 8 years ago was to have the app designed and then sold to you which can be quite expensive considering that this may need frequent updates. This was the case until Salesforce; an online cloud computing company came up with the Salesforce App Exchange a feature that has since then revolutionized the Apps world in the corporate sector and how companies can be able to use this to get the best out of the resources they have and ultimately ensure that they are able to get the best possible input from their work force.
What is the Salesforce App Exchange program?
For those that might not have been aware the Salesforce cloud computing is a marketplace where the consumers are able to get, download and install apps on their phones. Salesforce App Exchange that comes with this service offers both free and paid apps which are well categorised and offers different solutions to different industries from small businesses to those that deal with customer care and even on education. This service was launched in 2005 and it was the first of its kind and so far has seen more than 200,000 downloads in the past year.
Why should you opt for the Salesforce App Exchange service from Salesforce?
For most companies, getting a place where you're able to get a lot of benefits for a small price is a fair and small price to pay especially considering the mountains of profits that they will be getting from the service. With that said, here are some of the benefits that have attracted a great deal of the companies to use the service.
A lot of companies love transparency and the consumers value this even more. There are rarely any corporate business apps market places that you can be able to get that offer the same transparency that Salesforce app exchange does. This platform offers thousands of user reviews for every app and the number of downloads are up for everyone to see. As such when you decide to go down this path, you're well aware of what you're doing.
As it is, it is very hard to run a business and be sure that you're getting the best out of your employees. The last thing that you need is to have is an app that is a head ache. With the Salesforce app exchange, plug and play comes to reality. This is because for apps that are natively developed on the Salesforce platforms, some of the tools are integrated and shared on the cloud which makes it an easy and complete environment for users because of the accessibility of databases and common administration.
Every app that goes on the on the Salesforce app exchange platform only makes it there after a rigorous security scan to make sure that it is nothing but beneficial to the end users. That makes it ideal for a great deal of reasons among them making sure that you don't put the phones of your workers at risk and since the platform is integrated, your business as well.
Given the variety of advantages, it is not hard to see why this service has grown by leaps and bounds and why more and more industries are following suit in an effort to pursue competitiveness and productivity.
Salesforce App Exchange Login.
In Salesforce.com, to access Salesforce App Exchange features we have to login in to salesforce app store. For Salesforce App Exchange login follow the steps given below.
Go to Application and click on App Exchange.
When we click on Salesforce App Exchange application in application menu we are to redirected to new page https://appexchange.salesforce.com/. Now click on Login Button as shown below to access salesforce app exchange apps.

Click on Log in button.
By using our salesforce.com login credentials we can log in to Salesforce App exchange App store. In Salesforce AppExchange we can observe that every application can be accessed according to their category, collections and Industry type.

We can filter Salesforce App exchange apps according to their Popularity, new, Free, Release date, Name, provider and Rating.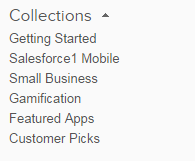 Above screen show list of salesforce app exchange collection.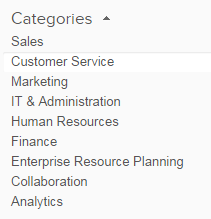 In salesforce app exchange we have 8 different Categories they are Customer service, Marketing, IT & Administration, Human Resources, Finance, ERP, Collaboration and Analytics. Depending upon the category we can select application.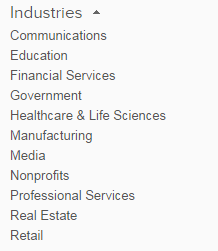 Salesforce.com provides apps to every industry. This features enables us to select Salesforce apps easily.
Salesforce Clients
How Salesforce help their clients?
The answer to this question is so simple, usually the companies linked with Salesforce are huge companies sometime small too, needed track for their marketing efforts. Salesforce provide them services like making a campaign. Campaign helps companies in their business conferences, seminars or parties. They can easily checkup who attended the seminar or who not. Some big companies CEO's when asked the question how Salesforce help their marketing effort, the answer from all of them was same. They said campaign at Salesforce are a good way of getting track of your leads, clients and know how yours marketing efforts are going.
Marketing efforts help to generate more leads, once leads are generated for particular campaign of a company, Salesforce simply connect them to the particular company and it this way the company client's roses and this is the main reason why companies trust Salesforce.
lesforce Configuration

.
At Salesforce there are a lot of things for individuals, teams and companies to do. Salesforce allow its users to configure their own CRM application and for that the customer service is available 24/7 for solution of problems user's faces. Users can add up his/her contact information at the time of setting up his/her own CRM application. The platform Salesforce provide is so simple that anybody can understand everything with a flesh without getting help from Customer Service Portal.
If you are facing some troubles configuring your CRM, simply open up the Customer Service and send them your problem, Customer Service will reply you immediately with the solution to your problem.
What is Salesforce Social Platform?
Work.com is the official Salesforce social platform. At work.com Salesforce provided some awesome service for their customer like solution for their sales performance, customer service to those who are facing some troubles or have some questions in their minds, and employed service for small/big organizations. On work.com the contributors, individuals and team work on their custom social projects and share information with each other anonymously. Salesforce guarantee them for the safety of their data.
Conclusion
Salesforce is now a days among the best cloud computing service providers all over the globe. Their customers never complain regarding their services. The make their customers satisfied with their provided services. They have strong links with major companies like Dell, Intel, and Oracle. A lot of companies show that they have strengthened by getting in touch with Salesforce. Salesforce provide infinite services to companies, groups, teams and individuals. They have their own anonymous social performance service platform, where millions of users perform their tasks every day.
Salesforce is best known for its advanced CRM system. Industries, companies, marketers, individuals everyone can easily promote, sell, market and service their products in a advanced way through socialising, cloud computing and mobile technology. Salesforce is the world leading cloud computing system now a days and will be on top in the future.