What is a Lead in Salesforce.com ?
What is a Lead in Salesforce.com ? How to Create a new lead in Salesforce.com and how to Edit / View created lead in Salesforce.com ?
When a person enters to data base to purchase some products then we enter this person as a lead. In Easy understanding we say Leads as Tadpoles and Contacts as Frog. Leads are simply prospective customers that you are trying to sell to.
Leads can be entered manually, imported or captured from a Web-to-Lead forms.
Leads contain both company and contact information.
When new leads are created we must automatically assign those leads to sales people using lead assignment rules.
Leads in Salesforce.com are are assigned to Sales Team. This Sales Team will work on these leads and at some point in the sales process "convert" them by creating a new account, contact and, optionally, an opportunity. Administrators can configure field mappings which determines "how the data from the lead is used to create the new account", contact and opportunity. All open and closed activities from the lead are attached to the account, contact, and opportunity. Once leads are converted they can no longer be viewed directly but do appear in lead reports.
In Salesforce.com lead object contain some fields. They are IsConverted, ConvertedDate, ConvertedAccountId, ConvertedContactId and ConvertedOpportunityId fields. You can query for converted records and determine what accounts, contacts and opportunities were created during the conversion process.
How to Create new lead in Salesforce ?
We clearly learnt about What is a Lead in Salesforce.com ? Now we learn about how to create new Lead in Salesforce.com and what are the details to be entered during the creation of lead in Salesforce.com? Follow the steps given below.
To create new lead user must go to Lead TAB and Select new.
Enter all the Lead information as shown below.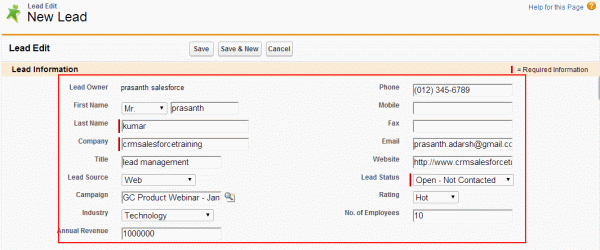 Enter Address information.
Enter Additional Information and Description and Finally click Save Button.
To view or Edit created Lead in Salesforce.
To view Lead go to Lead Tab=>Recent Leads.
Select the lead which we created to view/edit.