What is Customer Portal in Salesforce.com ?
Customer Portal in Salesforce provides online support for the customers to resolve their inquiries by providing best user interface to customer. The Customer Portal allows you to deliver a personalised, service application to your most important customers. It provides functionality similar to salesforce.com and is one of their most used and customisable offerings. Force.com Sites and Ideas uses Customer Portal in their background.
Customer Portal Features.
Self-service functionality with case management, Salesforce Knowledge, Solutions and Answers.
Allow users to run customisable reports.
Provide access to documents and Salesforce CRM Content.
Access to a knowledge base for customers using Salesforce Knowledge.
Ability for customers to participate in Salesforce Ideas communities.
Expose access to custom objects to display and collect information for custom applications.
Ability to create profiles with customisable page layouts, list views and field-level security.
Manage users with profiles, roles, and sharing rules.
Enable access via single sign-on.
Tweak the look and feel by changing colors and logos and customising tabs and their order
In Salesforce.com, Customer Portal setup consists of two steps they are
Enabling Customer Portal and
Creating one o more Portals.
How to Enable Customer Portal in Salesforce ?
In this salesforce Tutorial we have learnt about Overview on Customer Portal, now we are going to learn about how to Enable Customer Portal in Salesforce. Follow the steps given below.
Go to Setup=>Build=>Customize=>Customer Portal=>Customer Portal Settings.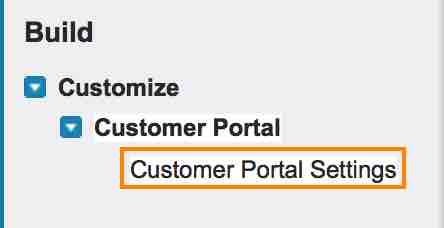 Click on Customer Portal Settings and list of portals will be displayed in a new page.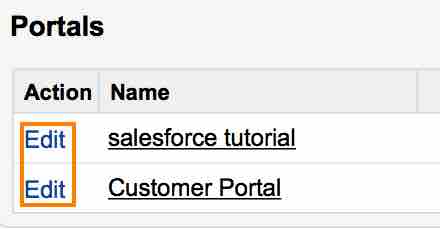 Select the portal to which you want to enable Portal login. After enabling login click on Save button.
Customer Portal limits in Salesforce.
In Salesforce customer portal, certain limits apply to custom objects, person account and portal roles. Customer portal limits are nothing but the number of customer portal and customer portal user licenses that we can activate in salesforce.com.
Depending upon the edition, maximum number of custom objects can be included in customer portal.
1000 person account portal user can be added in customer portal.
5000 portal roles can be added in customer portal.