In our last salesforce Tutorials we discussed about Salesforce service cloud and it products. In this SFDC tutorial we are going t learn about What is Data.com, Different editions in Data.com, Features in Data.com and Advantages.
What is Data.com and how it is helpful?
Data.com is one of the product provided by salesforce.com which provides online data storage for companies and different business professionals. This product is maintained and used across the globe over millions of users.
Data.com Features.
It allows users to exchange online data between the.
Can be accessed any where in the globe by any device.
Real time cleaning of accounts, contacts and leads can be done.
Right leads of an organization can be found.
It provided one of the best feature is it provides phone and email information.
New customers can be found very easily.
It increases productivity.
It increases CRM adoption.
Cleans data automatically.
Duplication in Account is prevented.
Unfilled information can be filled automatically.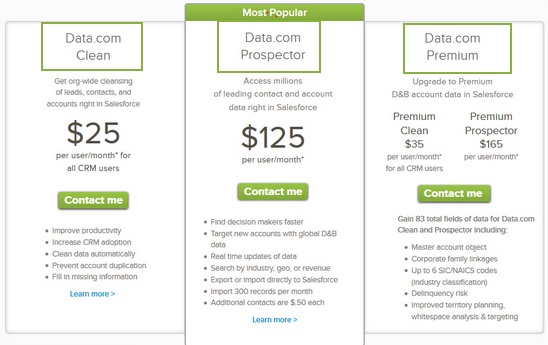 Data.com Editions.
Salesforce Data.com will be available to users in three editions. They are
Data.com clean.
Data.com prospector.
Data.com premium.
Data.com Clean
This is he basic product provides by salesforce.com. Through this product we can clean and update our records, contacts and salesforce account.
Data.com prospector.
This is the most popular data.com product and used by millions of users. If we want to use the maximum features of Data.com we have to go for this product. We have two versions in this Salesforce product they are.
Data.com Corporate prospector.
Data.com premium prospector.
For corporate prospector license organizations have to pay 125$ per month and for premium prospector license organizations have to pay 165$ per month.
Data.com premium edition.
In this premium edition we have two types of versions they are.
Premium Clean.
Premium Prospector.