What Is Salesforce AppExchange ?
Salesforce AppExchange enhances your sales processes with hundreds of add-on apps and services. The AppExchange is an on-demand application-sharing service that allows you to browse, test drive and seamlessly install applications that help you drive sales and increase revenue.
The AppExchange is a marketplace with nearly 1000 applications built on the Force.com platform. Here you can buy or sell business applications and services, usually with the option to test-drive applications that you're performing due-diligence upon.
Salesforce AppExchange are grouped according to the following categories.
Key Attributes – how much does it cost and rating e.g. whether the application is free or paid; is it a top-rated application.
Edition – which editions will it work on e.g. Group or Professional.
Type of App – what role or platform does the application work in e.g. whether it is a full-blown application or an add-on.
Industry Solutions – which industry is the application categorised under e.g. Communications, Health Care, or Retail.
Function – what business area does the application best cater for e.g. Analytics, Marketing, Sales
Of equal importance are the nearly 300 services offered on the AppExchange. These are grouped by:
Key Attributes – a subset of those mentioned above
Industry Specialisations – largely the same as Industry Solutions above.
Type of Service – Business Consulting, Custom App Development, System Integration, and training.
Publishing to the Salesforce AppExchange
In order to publish applications to the AppExchange it's necessary to work through a few key steps with salesforce.com. These steps protect you as the publisher but also ensure that that the products that consumers acquire through the marketplace are secure and of high quality.
These requirements are:
Join the Salesforce.com Partner Program1. Once considered a partner you'll be given access to a number of resources only available through this program e.g. previews of upcoming functionality and access to marketing channels.
Build your application on the Force.com Platform and bundle it into a Managed Package for distribution. The Force.com discussion forums will form a large part of your support in this phase.
Capture the details of your software within the publishing wizard2 e.g. the title, description, features and requirements. Then submit your application to salesforce.com for review. Once it passes the review you are free to publish it to the AppExchange.
As part of the publishers framework you'll also have the ability to present screenshots, read-only test drives, as well as fully functional trial versions3 of your applications to prospective clients.
Although your company will do the bulk of the heavy lifting, salesforce.com will comprehensive assistance every step of the way.
When it comes to a place where you can get apps especially those that will enable your employees to be more productive in an otherwise highly technology wise environment, it can be a mayhem. The best chance that you may have had over 8 years ago was to have the app designed and then sold to you which can be quite expensive considering that this may need frequent updates. This was the case until Salesforce; an online cloud computing company came up with the Salesforce AppExchange a feature that has since then revolutionized the Apps world in the corporate sector and how companies can be able to use this to get the best out of the resources they have and ultimately ensure that they are able to get the best possible input from their work force.
What is the Salesforce AppExchange program?
For those that might not have been aware the Salesforce cloud computing is a marketplace where the consumers are able to get, download and install apps on their phones. Salesforce AppExchange that comes with this service offers both free and paid apps which are well categorised and offers different solutions to different industries from small businesses to those that deal with customer care and even on education. This service was launched in 2005 and it was the first of its kind and so far has seen more than 200,000 downloads in the past year.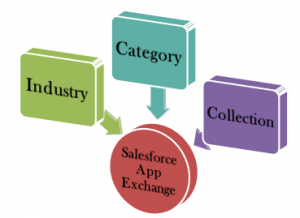 Why should you opt for the Salesforce AppExchange service from Salesforce?
For most companies, getting a place where you're able to get a lot of benefits for a small price is a fair and small price to pay especially considering the mountains of profits that they will be getting from the service. With that said, here are some of the benefits that have attracted a great deal of the companies to use the service.
A lot of companies love transparency and the consumers value this even more. There are rarely any corporate business apps market places that you can be able to get that offer the same transparency that Salesforce app exchange does. This platform offers thousands of user reviews for every app and the number of downloads are up for everyone to see. As such when you decide to go down this path, you're well aware of what you're doing.
As it is, it is very hard to run a business and be sure that you're getting the best out of your employees. The last thing that you need is to have is an app that is a head ache. With the Salesforce app exchange, plug and play comes to reality. This is because for apps that are natively developed on the Salesforce platforms, some of the tools are integrated and shared on the cloud which makes it an easy and complete environment for users because of the accessibility of databases and common administration.
Every app that goes on the on the Salesforce app exchange platform only makes it there after a rigorous security scan to make sure that it is nothing but beneficial to the end users. That makes it ideal for a great deal of reasons among them making sure that you don't put the phones of your workers at risk and since the platform is integrated, your business as well.
Given the variety of advantages, it is not hard to see why this service has grown by leaps and bounds and why more and more industries are following suit in an effort to pursue competitiveness and productivity.
Salesforce AppExchange Login.
In Salesforce.com, to access Salesforce AppExchange features we have to login in to salesforce app store. For Salesforce AppExchange login follow the steps given below.
Go to Application and click on AppExchange.
When we click on Salesforce AppExchange application in application menu we are to redirected to new page https://appexchange.salesforce.com/. Now click on Login Button as shown below to access salesforce app exchange apps.

Click on Log in button.

By using our salesforce.com login credentials we can log in to Salesforce App exchange App store. In Salesforce Appexchange we can observe that every application can be accessed according to their category, collections and Industry type.

We can filter Salesforce App exchange apps according to their Popularity, new, Free, Release date, Name, provider and Rating.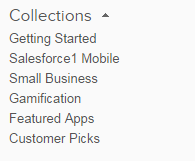 Above screen show list of salesforce app exchange collection.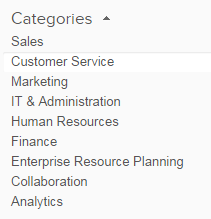 In salesforce app exchange we have 8 different Categories they are Customer service, Marketing, IT & Administration, Human Resources, Finance, ERP, Collaboration and Analytics. Depending upon the category we can select application.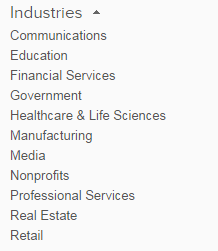 Salesforce.com provides apps to every industry. This features enables us to select Salesforce apps easily.