Salesforce Chatter features : In our previous Salesforce Tutorial we have learned about Salesforce Chatter objects and in this Salesforce Training tutorials we are going to learn about How to turn on Chatter, How to configure Chatter Tabs, Different types of Chatter licences, How to enable chatter invites, How to add Chatter User's, How to update chatter profile and what are the different additional Salesforce chatter features.
Salesforce Chatter features
How to turn on Chatter in Salesforce.com.
We have to activate Chatter in Salesforce.com first before configuring different settings in Salesforce chatter.
Go to Setup=>Customize=>Chatter.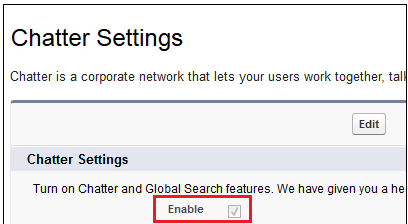 Check Enable Check box as shown above and Save it.
How to configure Chatter Tabs ?
After enabling Chatter in Salesforce we have to make Salesforce Chatter application is visible to every one in an organization. To make visible we have to customize Chatter TAB settings.
Go to Setup=>App Setup.

Select(+) and click on Customize my Tabs.

Now Select Application from Available Tabs to Selected Tabs with Up and Down Arrows.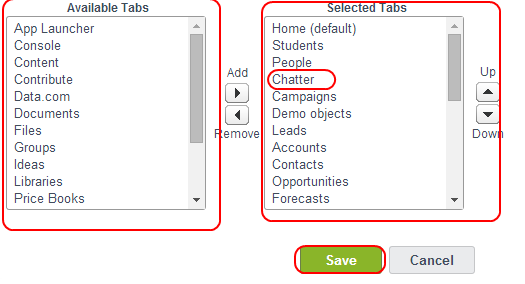 After Selecting Chatter Tab to selected Tabs list and select Save button.
What are the different types of Chatter Licences ?
In Salesforce.com Chatter licences are of 3 types they are.
Chatter External Licence type.
Chatter Free Licence type.
Chatter plus Licence type.
How to enable Salesforce Chatter invites ?
To enable Chatter invites go to Setup=>Customize=>Chatter=>Settings.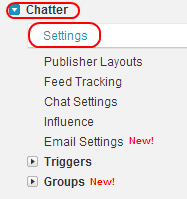 Now Click on Edit Button.

Now Check Allow Coworker Invitations.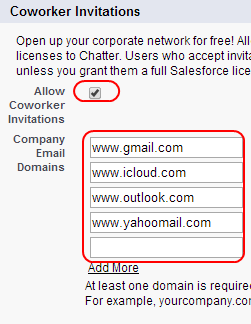 Enter Email addresses to invites as shown above and Select Save Button.
How to Add Different Chatter Users ?
Now go to People tab as shown below.

Now Select Invite People to Chatter button to invite user's.

Now enter E-mail address and message as shown below.
Select Save button.
How to Update Chatter Profile ?
Already we have stated that Salesforce Chatter is a Social Network with the combination of both Facebook and twitter. Through Salesforce Chatter we can connect with our colleagues, partner, domain experts and so on. So we have to maintain our Salesforce Chatter profile with all required information.
To update Chatter Profile go to Your name=>My Profile.

Now Select Complete About Me.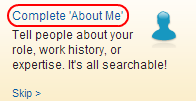 Now add Photo to your Profile and add contact details.