Zoho CRM :In our previous CRM Software Training We have learned about Oracle CRM on Demand. In this CRM Software Training we are going to learn about what is Zoho crm, Zoho CRM, Zoho crm login, Zoho support, Zoho inventory, Zoho CRM features, Zohocrm, Zoho CRM pricing, Zoho crm API.
When coming to business we have heard about many crm software's which are used to maintain customer relationships. By using CRM software we can automate our sales and marketing in our business. Different CRM software's are provided by different cloud service providers.
Some of the CRM software providers.
Salesforce.com or Force.cm.
Microsoft dynamics .
Oracle CRM on demand.
Google AppEngine.
Zoho CRM.
Siebel CRM.
Introduction to Zoho CRM.
Zoho CRM is developed by "Zoho Corporation" and it was launched in 2005. Zoho Corporation is a US based company and it has developed Zoho office suite which contains many application in a single suite like word processing, Spreadsheets, presentations, databases, note-taking, invoicing, wikis, Customer relationship management (CRM).
The word "Zoho" comes from a play on SOHO which is called as "Small Office Home Office". Zoho CRM is based on SaaS (Software as a Service) and it provides online software services to it's customers.When Zoho developed it applications many small and medium business people showed their interest. Zoho CRM has nearly 10 million customers.
We can use Zoho CRM applications for free of cost. When coming to commercial purpose like business applications pricing will be different depending up on subscription plan.
Zoho CRM is one of the Customer Relationship Management software developed for business.We can divide Zoho applications in 5 different parts. They are
Documentation and Presentation.
Spreadsheets and Databases.
Communication and Scheduling tools.
Meeting ans Collaboration Tools.
Apps for Business.
Different Zoho CRM Editions.
Free Edition.
Professional Edition.
Enterprise Edition.
Free Edition
This the free edition available to every one.
we can use up to 100mb space of data for storing our files.
1500 records per batch.
Professional Edition
$12 per user per month.
250MB of storage space
250 marketing mails per day.
10, 000 records per batch.
It has Secure Socket Layer support.
Encryption of data.
Hierarchize roles.
Enterprise Edition.
$25 per user per month.
500Mb of storage space.
20, 000 records per batch import.
Autoresponder.
Data sharing rules for user profiles.
Secure Socket layer support.
Encryption of data.
And many more.
Zoho CRM login.
To access all applications in Zoho CRM we have to login in to Zoho. By using one user name and password we can use all applications popularly known as Single-Sign-On.
Method 1
How to create Zoho CRM Account.
Go to www. Zoho.com.
Click Zoho CRM Sign up button.
Enter all the details.
Finally click on submit button.
Method 2.
We can sign up to Zoho using Google and yahoo account.
After signing up Zoho crm through http://crm.zoho.com confirmation email will be sent to your email.
In menu bar we have many pulse, leads, Account, contacts, potentials and so on . We have to customize our menu to add or hide menu items on menu bar.

More menu bar is on menu bar as shown below.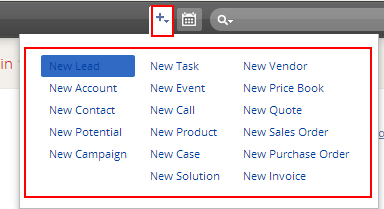 From More menu we can create a new lead, new account, new contact, new potential, new campaign, new task, new event, new product and any kind of record can be added to CRM with single click.
Search Box.
Search box is present on the left side of the page. We can search recently created or recently changes items, a drop down list is present for creating new items.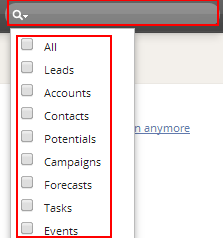 Calendar.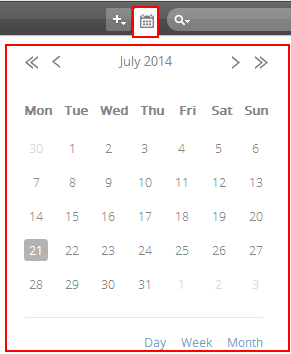 Set up Menu.
Tabs can be customized using setup menu. Setup menu is present at the top of the page.

In setup menu we have 11 applications which are used to customize our Zoho CRM.
Personal Settings.
Account information :- Language, Country, Time format, Time Zone details available here.
Name format :- It is used to customize the name format of the users, leads and contacts.
Themes :- Background color, layout, tab bar settings can be made here.
Audit log information :- All actions performed by the users is available.
BCC Dropbox :– Automatically a copy of sent email will be placed in BCC Dropbox.
User & Permissions.
Users :- We can add new users and can manage subscriptions.
Organizational Settings.
Company Details :– Company information like name, number of employees, phone number , address, company logo and so on available here.
Fiscal Year :- We can set fiscal starting month of our organization here.
Customization.
Modules :- We can manage all module like leads, contacts etc on tab menu.
Fields :– By selecting Module we can add or edit fields here.
Links :– We can set user defined hyperlinks here.
Layouts :- W can customize page layouts by changing the order of the columns and fields.
Search Layouts :– 6 field can be selected to display in global search.
Related Lists :- We can select lists from Available column to Selected column.
Custom view settings :- Default custom view can be set.
Automation.
Workflows, alerts, tasks, field update actions can be set to trigger from here.
Templates.
Email Templates :- New Email templates can be created.
Inventory Templates :-These templates are used for customizing the print layout of inventory modules.
Mail Merge Templates :- Public mail merge templates available here. We can create templates using Zoho writer and can also we can import from micro soft word.
Website Integration.
Web Forms :- We can design and build variety of web forms for leads, contacts and cases.
Auto Response Rules :- We can configure auto response rules for web to lead forms.
Unsubscription forms :– We can generate HTML code for unsubscription forms.
Apps & Add-Ons.
Zoho Apps :- In Zoho apps we can find Zoho Mail, Zoho Projects, Zoho Writer, Zoho Invoice / Zoho Books, Advanced CRM analytics.
Other Apps:– We can use Microsoft Outlook, Zoho CRM mobile edition, plugin for Microsoft office and various quick books available in other apps section.
Developer Space.
CRM API :– Security tokens, REST API will be available here.
Zoho Service Communication key :- We can generate Zoho service communication key which is used to access Zoho CRM modules from other Zoho services.
Data Administration.
Migrate from other CRM :- W can migrate data from other CRM System to Zoho CRM account here.
Import History :- Imported data history available here.
Export Data :- We can export data maximum 3000 records from Zoho CRM account in to CSV format.
Data Backup :- We can take back up from Zoho crm account.
Storage :- It shows total used space by all individual users.
Recycle Bin :- All deleted records are displayed in recycle bin.
Subscription Manager.
Activate Users :- This page allows to activate or deactivate the users.