How to create new campaigns in salesforce CRM: In our previous salesforce training tutorial we have learned about how to configure campaign settings in salesforce. In this salesforce tutorial we are going to learn about how to create new campaigns in salesforce CRM.
Marketing professionals or marketing team uses campaigns to collect and process the leads collected from different types of campaigns in salesforce. To track number of leads, contacts and opportunities we use campaign records. To create new campaigns in salesforce CRM user must have Marketing User's licence and also must enable permissions on campaigns in their profiles.
How to Create new campaigns in salesforce.com
Go to Campaigns Tab.
Now select new Campaign as shown below.

Now a form will be opened with some campaign information. Enter all the details.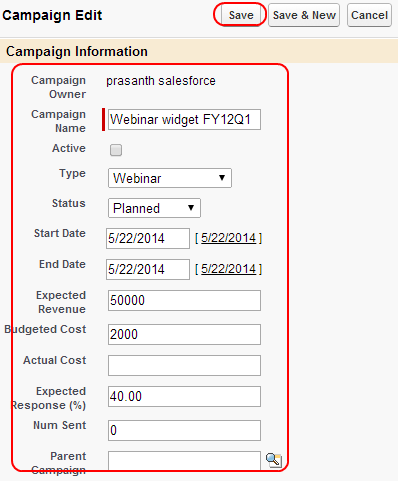 Now click Save button. Now the page will be opened in detailed view.
Campaign Member Status values.
In Salesforce CRM, new campaigns will have two default member status values they are 1. Sent 2. Responded. To set up those campaign member status values go to Advanced Tab as shown below.
Now the status values can be replaced with user defined values. Check boxes are checked as shown below.
Multiple responded values can be created. When we have more than one responded values they are summed together to produce the calculated field total responses.
Adding Multiple Members to a campaign in Salesforce CRM.
Now we have to add multiple members to a campaign in salesforce. Multiple members can be added from manage members in campaign page as shown below.
We can add multiple members from Manage members. Existing contacts and leads can be selected from Mange members and go to add members-Search. Use add members-Search to search members.
Now a page will be opened add multiple members from lead or contact reports.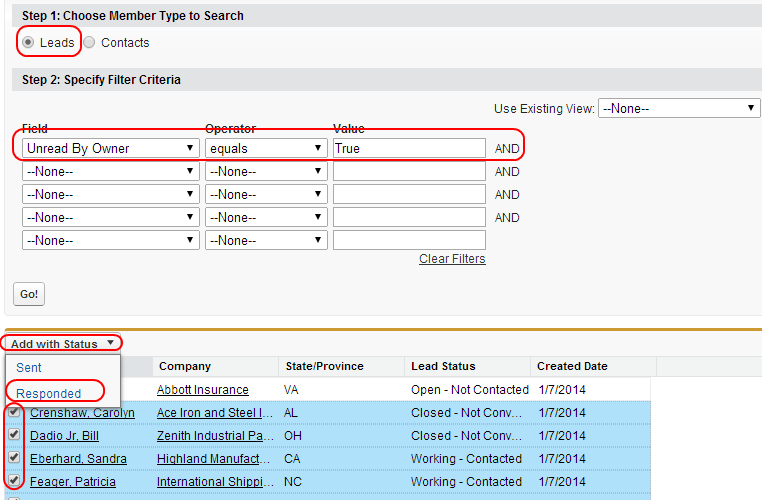 Select the required lead check boxes and select Add with status as shown. In Add with status select responded value.
Confirmation message will be displayed as shown above and now go back to campaign.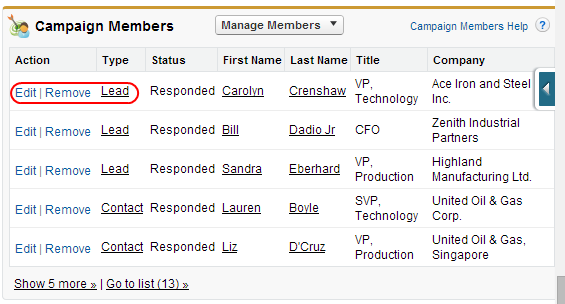 In Campaign members section we can see list of member that we added to campaign as shown above.
Now Edit a Lead.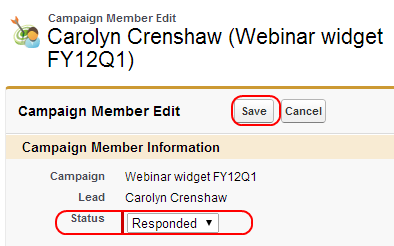 Here we can change status and select Save button.
In our next salesforce tutorial we will learn about how to execute campaigns.