Salesforce Chatter Features : In our Previous Salesforce Tutorial we have learned about Some Salesforce Chatter features. In this Salesforce Training Tutorial we are going to learn about some additional features of Salesforce chatter like Updating Status, Posting Comments, Adding Link, adding Chatter Polls, adding topics to chatter status updates, How to make a topic favorite and how to Bookmark a post.
Salesforce Chatter Features.
How to Update your Status in Salesforce Chatter ?
Updating status in Salesforce means we are updating information that what we are doing ? What are we thinking about. By updating status we can share our information to our colleagues and friends.
Now Go to Chatter.

Now click on Post Button as shown below and enter the message to be updated.

Click Share.
How to post a Comments ?
To post a comment we use different tags example:- @prasanth, @salesforcetraining.
Press Comment button after entering Comment. We can also add files in comments.
How to add a Link in Salesforce Chatter ?
If we want to add some website URL in salesforce chatter Go to Chatter Tab and click Link button.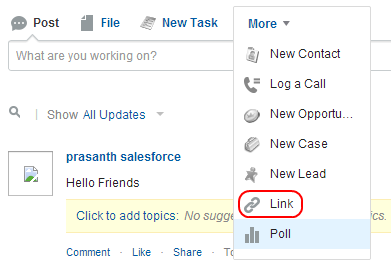 Select link as shown above and Enter Link URL and Link Name as shown below.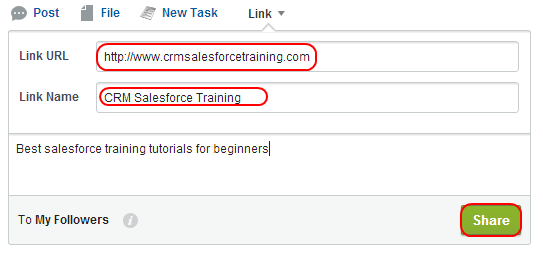 Enter message and finally select Share Button.
How to Share Chatter Polls in Salesforce ?
In Salesforce.com we can share Chatter polls to our friends and colleagues or a group of member's. Through Chatter polls we can gather opinion polls efficiently and quickly.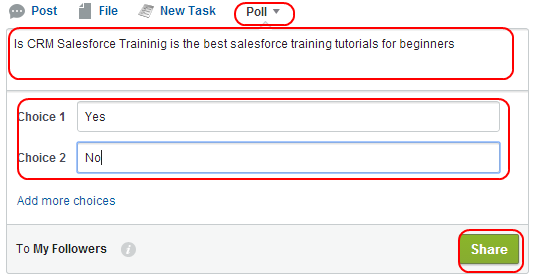 Select Poll button.
Now Enter question and enter choices as shown above and finally click on Share button.
How to add topics to Chatter status updates?

We have already learned how to update status. Now we are going to learn how to add topic to that chatter status. We use "#" tag. In Chatter we can add topics to our own post and also for other posts in the feeds.

Select Add topic button and enter description as shown above.
Finally Select Done.
How to Bookmark a post ?
In an Organization every user's chats frequently with so many people. If we want to find old post or conversation it is very difficult to find among thousands of old post. So we have to bookmark the post.

Select Pick list button and select Bookmark as shown above. We can add any number of posts in Bookmarks as there is no limit.