Modifying Quote Template in salesforce : In this salesforce tutorial we are going to learn how to modify a quote template in salesforce. salesforce.com provides us an easy way to generate quotes in PDF format. These PDFs are the copies of Contracts, quotes, proposals. Salesforce provides us the option to save the PDF quotes to a disk and also be sent to customers through an E-mail.
Modifying quote template is the way of designing the documents that matches to our standard branding by adding Logo, images, we can redesign header and footers and other design elements. In documents we can also add contract line items and signature if required.
Modifying Quote Template in salesforce
To modify a quote template in salesforce go to Set up.
Now Go to Customize=>Quotes=>Settings.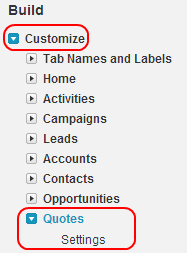 When Settings in Quotes are selected a new window will be opened where we have to select the check box to enable quotes in salesforce.
Select Save Button.
Now a list of options will be displayed to add a list. Select any of the page layout by selecting the check box as shown.
Select Save.
Now go back to Customize=>Quotes=>Templates.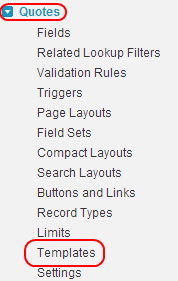 Select Templates.

Select Edit.
Select Quote template Properties to edit layout, to rename template name.

Select OK.

Now Finally select Save the settings.
Select the list of field that to be appeared in the quote by the fields. Digital Signatures in Quotes can be inserted by using Salesforce App exchange applications such as DocuSign and EchoSign.