Salesforce Activities: In this salesforce training tutorial we are going to learn about salesforce activities, different types of salesforce activities, creating salesforce activities and viewing existing salesforce activities.
What are the activities in salesforce ?
Salesforce activities are of different types they are scheduled calendar, events and tasks. Salesforce activities are similar to the activities in Microsoft outlook and Google applications. Generally activities in salesforce are used to schedule events, inviting people to a function, adding certain task to an employ and so on. Mainly these activities are used to get things done with out any failure.
Events and tasks are related to records like accounts, contacts, leads, opportunities and cases. By using salesforce activities we can track all the tasks and events that are scheduled or involved in acquiring, selling, and servicing customers.
What is a task in salesforce ?
A task is an activity in an organization that needs to be completed. A task may not have any specific time period or time duration for completion. Example :- Suppose marketing team wants to send email to the existing customer about the new product they launched now the marketing team create a task called send letter.
What is an Event in Salesforce ?
An Event is generally a calendar activity which has scheduled time, date and duration.
Log a Call :- In salesforce Log a call is an activity where important data from the customer is gathered by making a call to customers.
Send an Email :- Send an Email is an activity in salesforce where we can send emails from salesforce and also from third parties like Microsoft Outlook and Gmail.
How to create new task in Salesforce(salesforce activities) ?
Now we are going to create salesforce activities. Before creating activities in salesforce we must understand which type of activity we have to create. Suppose if we want to schedule an activity which have specific location, time and duration there we create events.
We are going to create an activity for Leads. To create activity select Leads Tab=> Select the Lead.

Select Leads Tab as shown above and from the list of leads select any of the lead to which you want to create new task. View the lead in detailed view and select New Task as shown below.

Now a new window will be display with different fields like Assigned To, Subject, Due Date, Priority, Status, Name. Enter all the details.
Select Subject from look up window as shown below.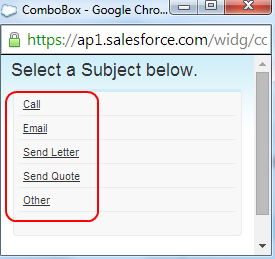 Now Select Save Button.

Successfully we have created new Task.