Scheduling Reports in Salesforce.com : In our previous Salesforce Tutorial we have learned how to create Web to Case Forms. In this Salesforce Training Tutorial we are going to learn about How to Schedule a report in Salesforce.com for future run.
Scheduling Reports in Salesforce.com
Scheduling reports in Salesforce.com are designed for scheduling reports for future run to get latest report data with out running a report manually.
In this process we have to give starting date, end data date frequency and time to which the report is to triggered automatically. We can set up to 200 scheduled reports and joined reports can not be used for scheduling for future run.
Scheduling Reports in Salesforce.com steps.
Follow the steps given below for scheduling reports in Salesforce.com.
Go to Reports Tab.

Now select the report to which you want to schedule.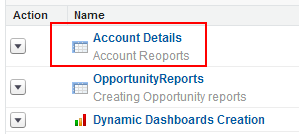 Click on the Report name to edit in detailed mode.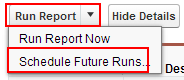 Now click on Run report pick list and select Schedule future Runs as shown above.
Now a new screen will be displayed and enter all the details as shown above.
Select the running user from
Select Email report option to which an email will be sent when a report is scheduled.
Select the frequency to which the report to be run.
Enter starting date and Ending date.
Select preferred time.
Select the option as Save the report modifications with this schedule.
Finally Save report schedule.
How to delete Report Scheduling run ?
To delete report Scheduling go to Run report picklist and select Schedule future runs.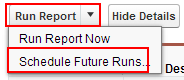 Click on Schedule Future runs.
Select unschedule report button to cancel.
How to view which report is scheduled for future run ?
To view which reports are scheduled for future run in salesforce.com follow the steps.
Go to Monitor=>Jobs=>Scheduled jobs.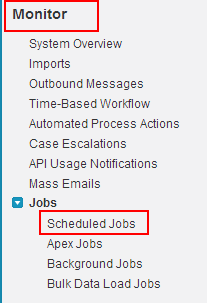 Click on Scheduled jobs.

Now we find the list of reports which are scheduled for future run. Successfully we created scheduling reports in salesforce.com.