Salesforce developer Account
In this Salesforce tutorial, we are going to take a look at getting a lifetime free Salesforce Lightning Developer Edition and also we learn how about switching between Salesforce Classic and Lightning Experience.
We will have two of Lightning Experience perspectives i.e. End-user perspective and Developer perspective.
From the end-user perspective, how he is going to do the transactions in the Salesforce we will have one understanding. Then, whatever the given standard Lightning apps like sales, pre-sales, marketing, post-sales, service.

From the developer's perspective, what are the two types of developments tha take place in Lightning? One is a point and click, drag and drop.
Salesforce is providing free developer edition where you can develop force.com applications for free. Salesforce provides many editions based on the customer's needs. Each edition has their features. Following are the paid editions providing by Salesforce.
Contact Manager.
Group.
Professional.
Enterprise and
Unlimited.
In developer edition, we can have access to Apex, Visualforce, the Force.com Integration APIs, Force.com sites, the database services and much more.
Following are licenses available in developer edition.
2 Salesforce CRM licenses
2 salesforce mobile licenses
3 salesforce platform licenses
5 salesforce partner licenses
10 salesforce customer portal licenses
Limits of the developer edition
5.0 MB of data storage
20 MB of file storage
5000 API requests per 24 hours period
Any number of applications
A 500 MB bandwidth and 10 minute service request time limits ( per rolling 24 hours) for force.com site applications.
Creating Salesforce developer edition account
We are going to this URL http://developer.force.com/ and click on "JOIN NOW" button then you will navigate to the registration page. Provide the information ever first name your last name. So, this is our working email where the Salesforce will send the activation link.
Select some Role, Country, postal code, user name. Here, the user name should be in the format of email name.

After filling all the details Click on sign me up.

Next, open your email and check your mailbox, you will get an email notification from Salesforce with a link, you have click that link and set your password. Activate your account by setting the password and Verify account. Combination of minimum of eight characters, minimum volatile minimum one numeric.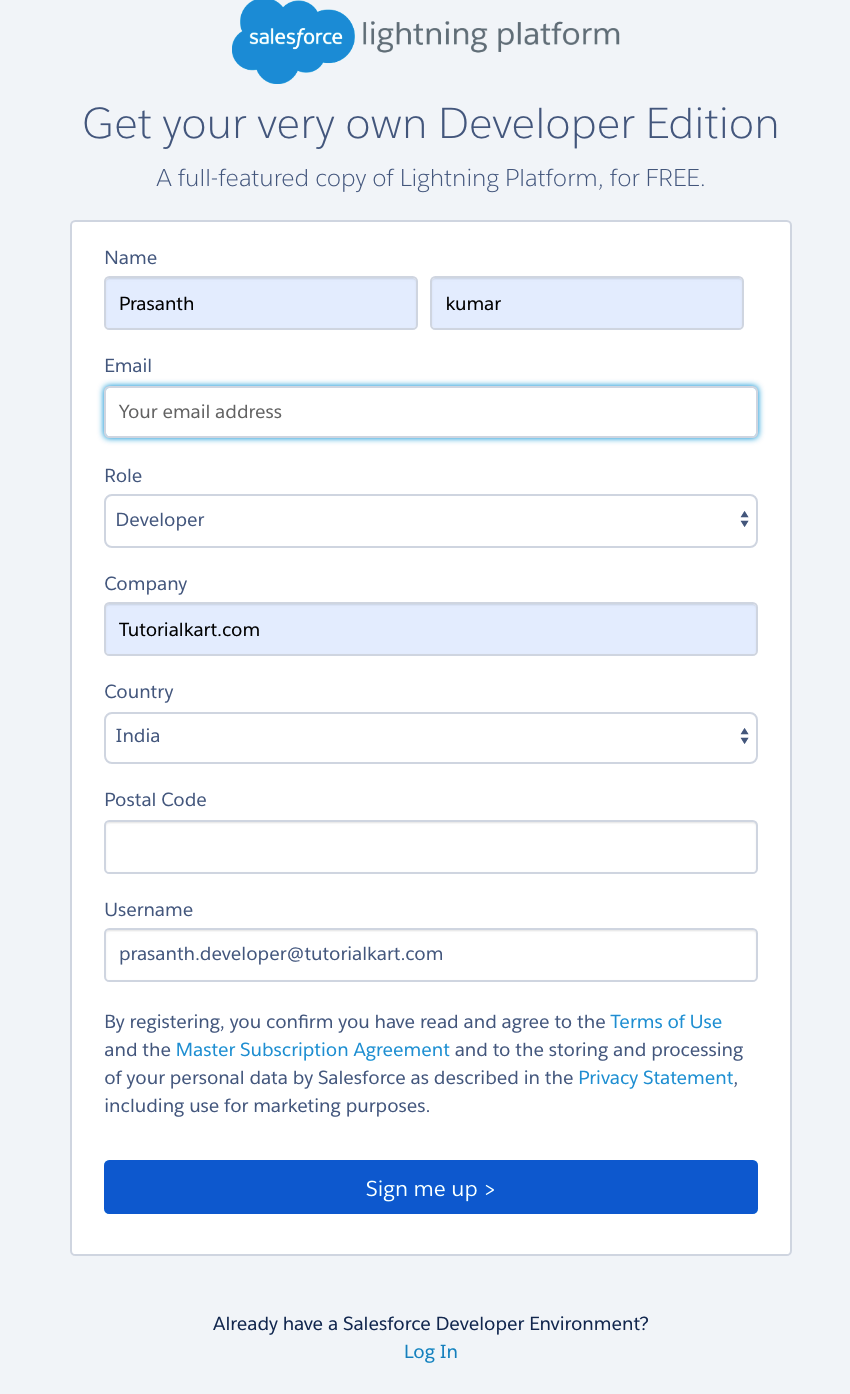 Probably a security question in the case, in future, if you forget the password to reset the password it is going to be helpful for you. Now you are in salesforce developer edition. Here you can create your own applications, you can customize the standard application. For more information, you can go to http://developer.force.com/.
Conclusion
In this tutorial, we learned about creating a permanent Salesforce Developer account. So in our next Salesforce tutorial, we will understand what's Lightning Experience and how to switch in between Lightning Experience to Classic as well as from Salesforce classic to the Lightning Experience.