Grant Login Access
In our previous Salesforce Tutorial we have learned about How to set local time zone for our salesforce.com account. In this Salesforce Training we are going to learn about How to grant login access to administrators, customers, users in salesforce.com.
What is Grant Login Access ?
Grant login Access in salesforce.com provides a way to login in to customers and users account using our login credentials for a specific time period by an administrator.
We can grant login access for the following time periods.
1 day.
3 days.
1 week.
1 month.
207 days.
1 year.
How to grant login access to users ?
To provide grant login access go to your name=>My settings.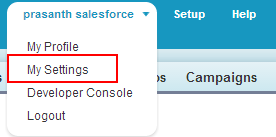 Click on my settings.
Go to Personal=>Grant Account Login Access.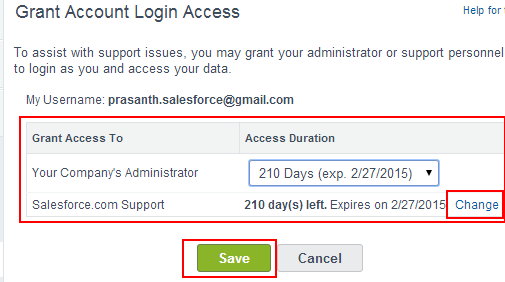 We can provide grant access to your company administrator and Salesforce.com support. Click on change button and select required number of days to provide access. Finally select SAVE button.
Now go to setup=>Administer=>Mange Users=>Users.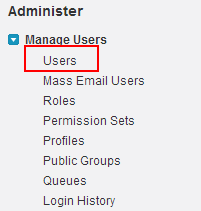 Click on Users.

From above screenshot observe there is a login Button when we click on login we are able to login in to Developer user account with our own login credentials.